To go for a change of scenery, you don't always have to go far – already when you drive a couple of hours, you will encounter country sides that you've never visited before. That's what my family and I did in order to escape the city – turning the tables for once!
What you must try
The Hesbaye region is known for its blooming fruit trees – so what you definitely must try is fresh fruit – depending on the season, you can pluck your own apples, pears, cherries and of course, all year round, you can try everything that is derived from these: marmalade, syrups, juices, ice cream, …
What you must see
We spent 5 days in Limburg, a Belgian province known for glowing landscapes and kind hearted people. We optimised the days to visit different corners of the province. Because we were a very diverse group of people, our day trips were filled with food, art, history and sports.
1st day: Eating cheese and drinking beer, just as in old Breughel paintings
It's not known where exactly Pieter Breughel the Elder was born, but he was a successful painter in Antwerp during its Golden Age, around 1555. He's famous for his farmer-motifs, but also created a fair amount of works with fantastical creatures depicting the devil and death.
Also today, his paintings and drawings are very popular and can be found in museums all over the world. At one of the possible birth places, Peer, you can visit a unique exhibit of the entire body of work in one location. Of course, there are no originals in this Breughel museum – but it gives you the opportunity to see the Breughel works that still exist hanging next to each other.
We had lunch at the tavern of a trappist abbey called Achelse Kluis (literally meaning hermitage of Achel), which is one of the few trappist beer breweries in the world. In the shop, you can also buy any of the 4 beers they produce to try at home or choose a trappist beer from other trappist breweries, next to traditional monastic products like marmalade, cheese and soap. Of course, there is also a large library and a section with religious articles.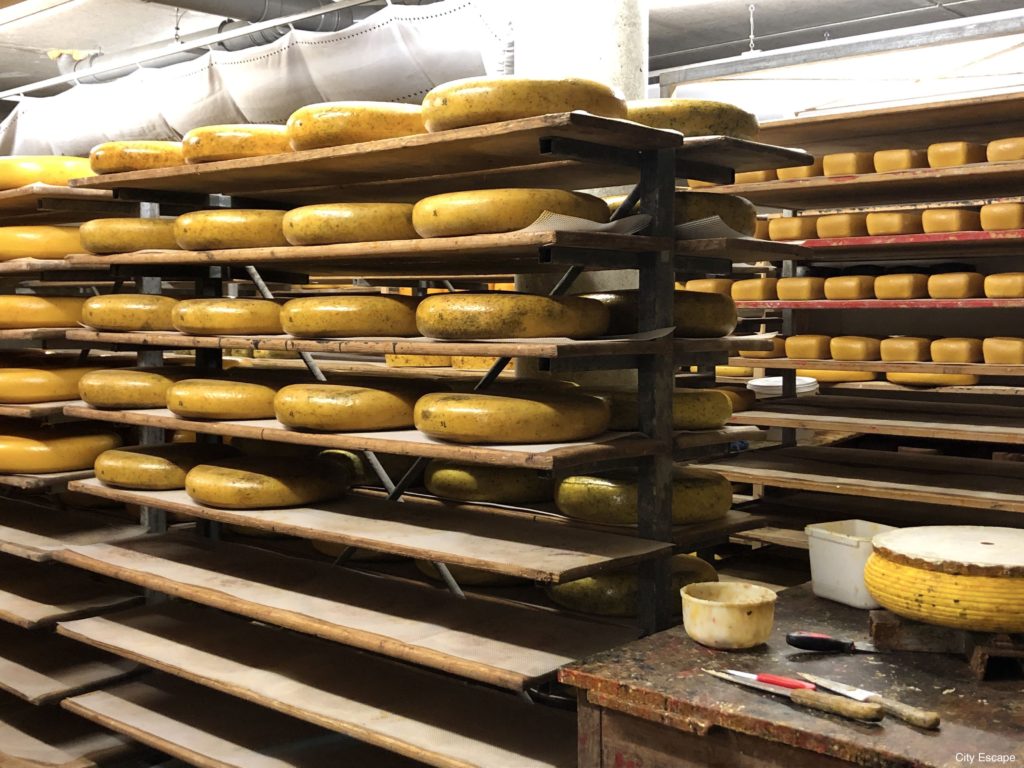 In the afternoon, we went for a guided tour at family owned cheese factory Catharinadal: one brother is a farmer and his cows deliver the milk that the other brother uses to make delicious cheeses and derivatives. It was fascinating to learn about the production of the different kinds of cheeses, the struggle of modern farming in a global economy and the social projects they participate in. 
Did you know also mustard and chocolate spread can be made with ingredients that come from milk? Everything they sell in the shop is delicious – too bad we this tour was planned them on the first day of our trip. Next time, we'll be sure to visit them just before going home.
2nd day: History – jump from 1945 all the way back to 1220
At the end of the 2nd World War, the city of Lommel had to provide lands for a German War Cemetery, where now over 39.000 people, mainly soldiers, who were found all over Belgium, are buried. Every cross bears two names, meaning two people, who might have well have led different lives, are buried there. It's easy to get overwhelmed at the sight of so many crosses; indeed, as far as the eye can see.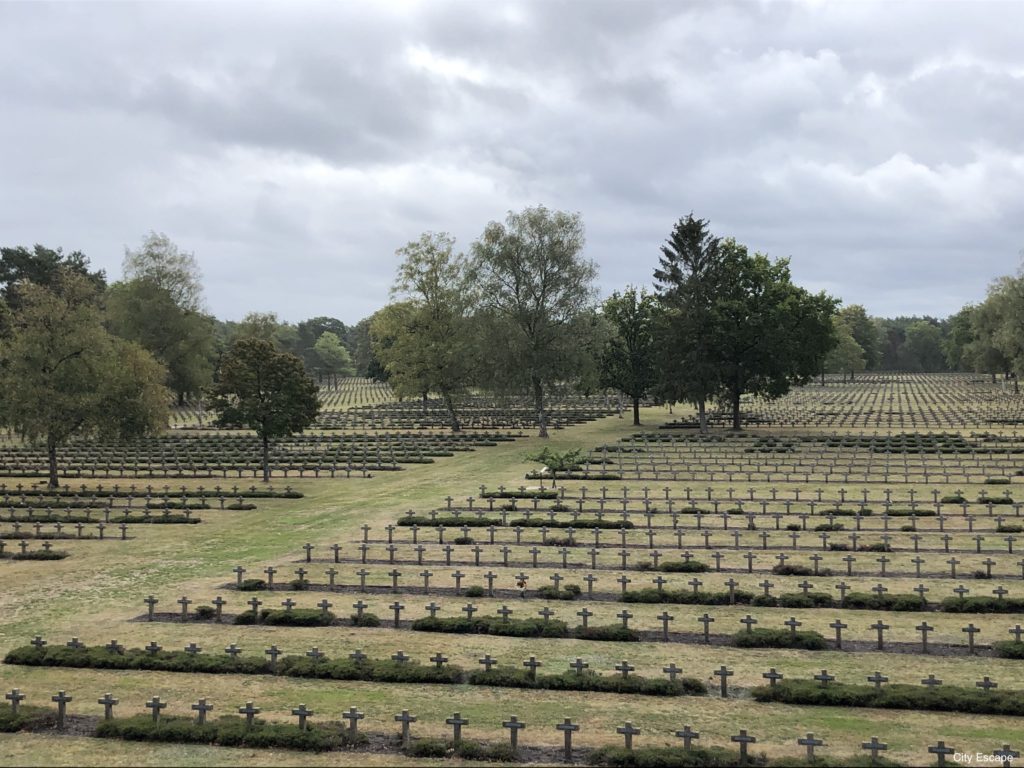 A guide provided background information at a couple of graves, bringing us closer to the different lives of people that are buried here: 17-year old soldiers, who had been brainwashed to believe the Third Reich was worth dying for, family fathers who were bullied into membership of the Nazi-party, young men whose letters home make clear that it's a lonely world out in the trenches. These stories made the visit so much more tangible.
The current buildings of the Grand Commandery at Alden Biezen were constructed between 16th and 18th century, but the commander as head of the province had been founded in 1220 by the Teutonic knights. The large castle domain hosts a lot of activities throughout the year, ranging from floral festivals over seminars to opera. In order to get acquainted with the domain and its history, we went digital and played the game The Conspiracy: everyone got a tablet and 1.5h to hunt for clues and information in order to solve a murder mystery. Foresee some more time to visit the grounds again after having done the game so that you can take your time to take in the details in the church, the castle and the English and French gardens.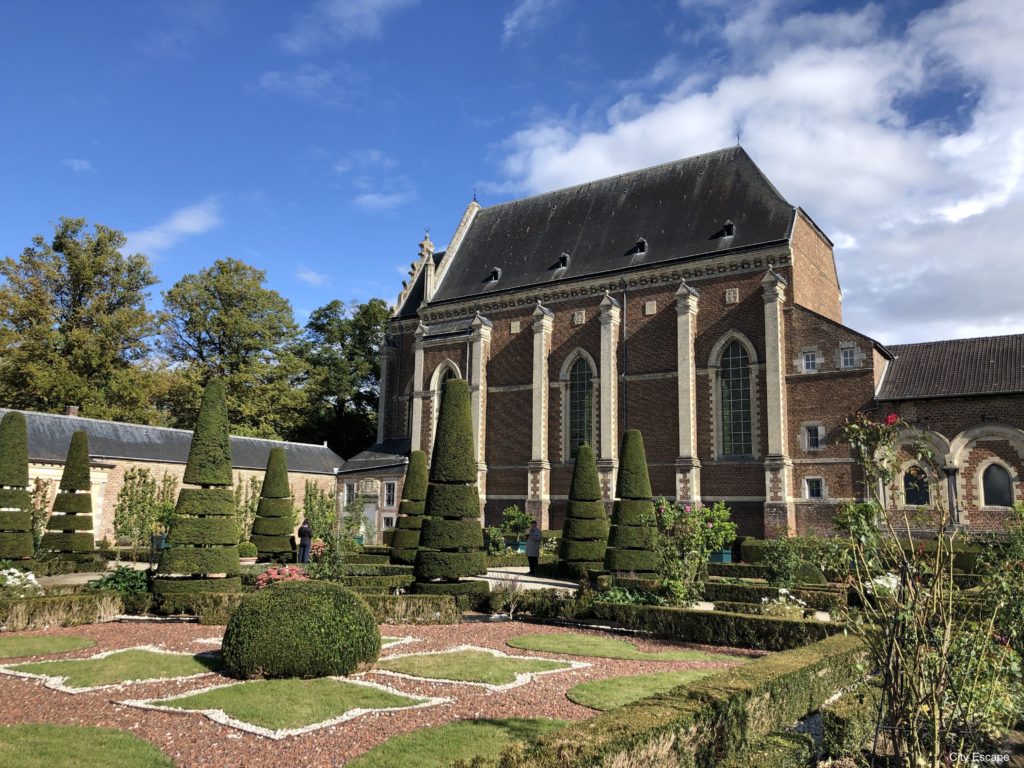 3rd day: Working out body & mind
The Bokrijk provincial domain is most famous as an open air museum in which you can visit houses and historical buildings depicting the history of rural life. We decided not to visit the museum but rent bikes to visit the 5.5 square kilometres wide domain and surrounding villages. Bokrijk suggests a couple of bike trails in the area, but we traced our own trajectories using the Fietsnet website, that gathers all bicycle junctions of Flanders. Be prepared to drive by small churches in former mining communities, climb hills in residential areas and drive through water…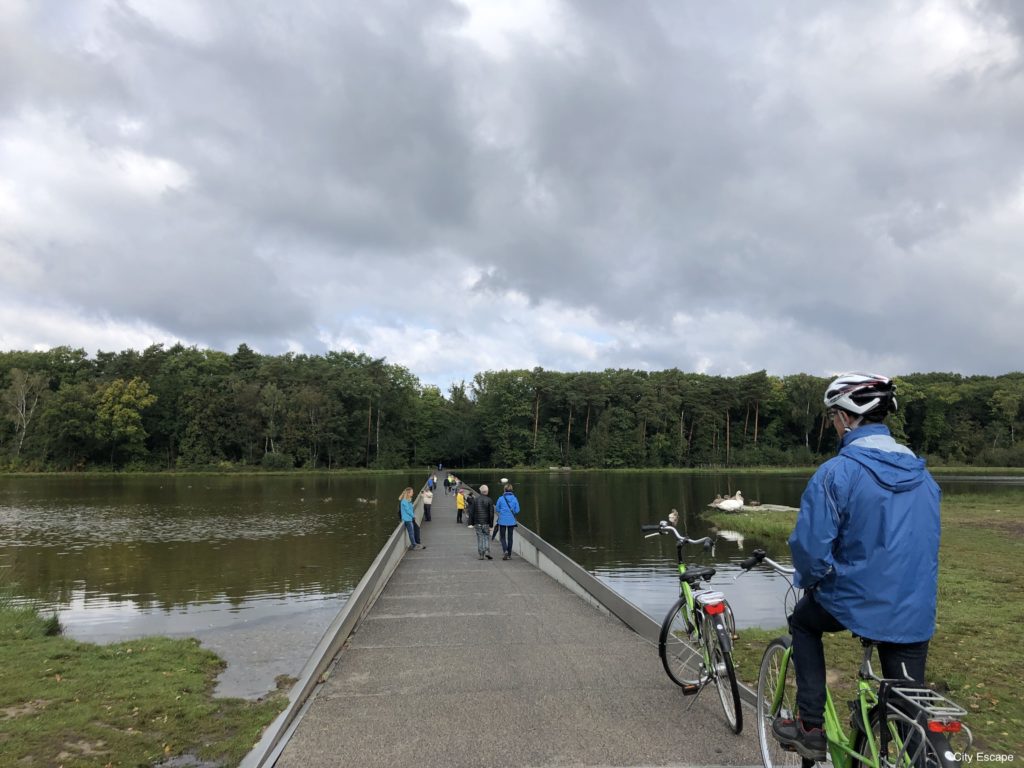 We gave our legs a break from cycling at Bistro Koetshuis, next to the castle of Bokrijk. The friendly, quick service and delicious food was just what we needed after a morning of sweating on a bike.
We then visited a site that used to be a mine turned into a zoo and now houses Labiomista, a project from artist Koen Vanmechelen, that funnily enough also incorporates animals. One look at his long running, universal breeding project Cosmopolitan Chicken Project, shows that to Vanmechelen, animals are more than just objects behind bars to look at on a Sunday afternoon. Extrapolating his experiences with breeding, science and art, Vanmechelen takes you on a journey about diversity, the history of mankind and the future that we could have.
Vanmechelen clearly does not want to be an island of culture, and explicitly looks for ties with the surrounding communities: one example is the fact that you cannot eat or drink inside Labiomista – he even gives you explicit names and addresses of bistros and cafés outside the grounds.
4rd day: WWII history & Wine tasting
Constructions of Fort Eben Emael, one of the largest fortifications in Europe and though to be impregnable started in 1932. The museum inside the fort tells the story of how the fort was home to 1200 soldiers and how elite German paratroopers took the fort on 10 May 1940 with surprising efficiency, using gliders and a new type of explosive.
After walking some of the 5km galleries inside the fort, we were glad to be able to get some pancakes and bread platters at the mill that lies in front of the fort: Moulin Loverix.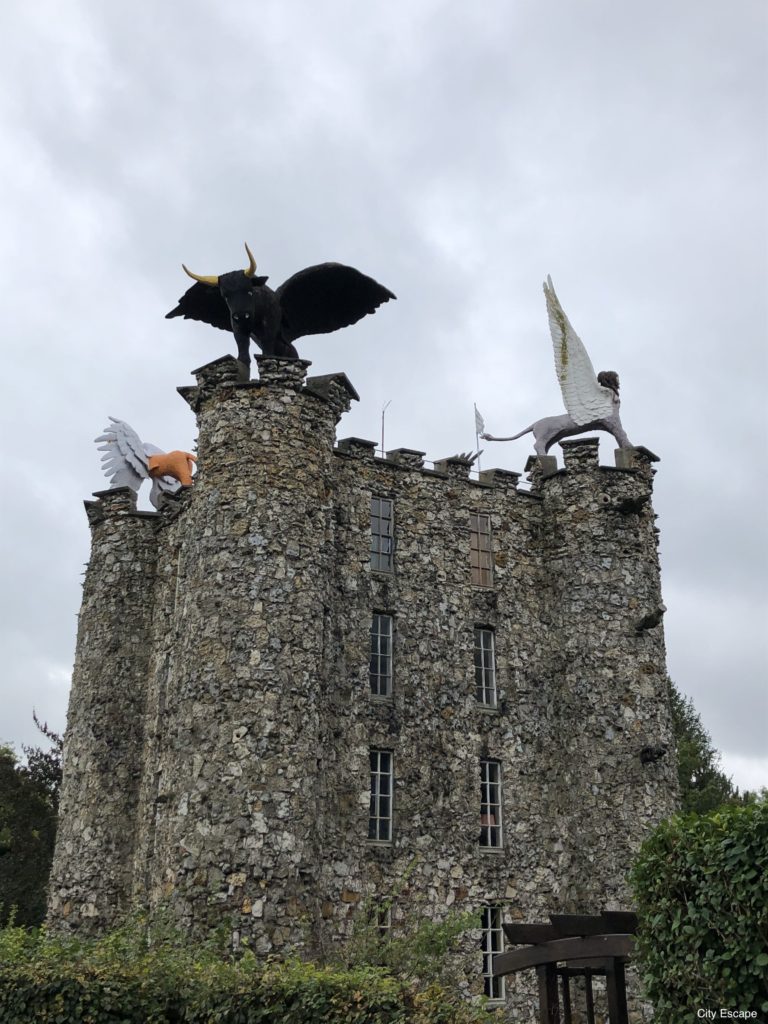 A short drive brought us to the Museum of Flint in Eben-Ezer: the building resembling a medieval castle was made by one man out of flint rubble between 1951 and 1965. The four corners are ornamented with the four cherubim of the Apocalypse – the whole building actually bears dimensions and references from the Bible. The creator and builder of this special place, Robert Garcet, actually meant to set into the world a symbol against war and other forms of violence.
In the afternoon we went for a guided tour on the premises of Belgian's largest wine domain: Genoels-Elderen. The combination of a huge pond in front of the symmetrical castle, 25 ha of vineyards (Chardonnay and Pinot Noir), an old castle garden and cellars that probably already contained wine in the 13th century will make you so dizzy, you need a drink afterwards.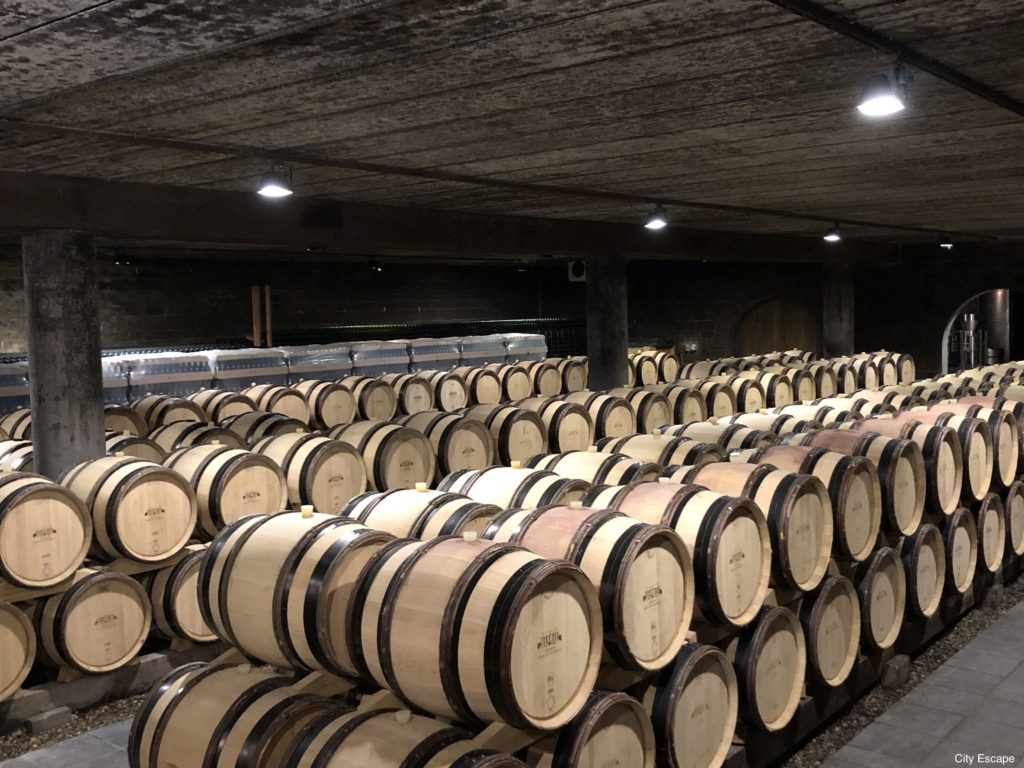 5th day: Hesbaye region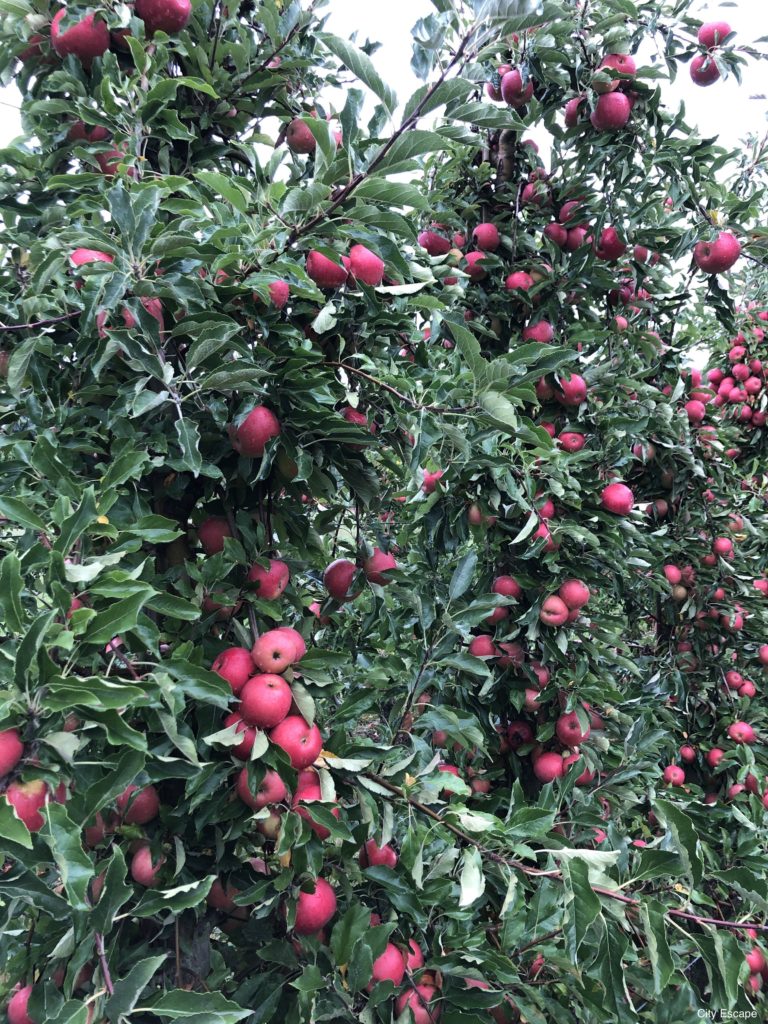 The morning of the last day we decided to pick our own fruit in order to go home with a healthy basket: apples that you've picked yourself just taste differently. At Gezond van bij Ons, they offer a wide range of varieties in apples, pears, cherries, walnuts, meplars, … They make their own mustard, syrups, juices and marmalades.
To end our trip we decided to halt at alcohol distillers Wilderen, they create beer, gin, whiskey, liquors and other alcoholic drinks and provide for an agreeable atmosphere to consume these beverages: in winter in front of a large fire place, in summer you can sit outside.
What you must visit
The former mine site of Genk was turned into creative and cultural hub C-Mine, where every year many exhibitions, events, activities and shows take place. Never a dull moment!
be-MINE is the largest mining site in Belgium that is still intact: 100.000 m2 now house a climbing center, an urban swimming paradise with outdoor pool, a shopping complex, … You can climb a 100m high terrill to have a spectacular view of Limburg or snorkel and dive among tropical fish in an enormous basin, that used to be an old mining installation.
How to get around
There are a lot of biking opportunities and friends told me the area is beautiful to discover by vespa, but really to do the whole program in 5 days, you need to have a car.